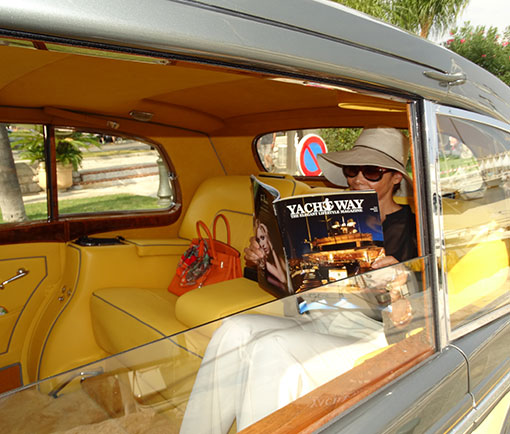 The Readers of YACHT WAY magazine are of course, as the title implies, people that owned or rent a Yacht.  We focus on HNWI & UHNWI, and it is a fact that today there is a waiting list on the purchase of a Mega Yacht which means that there is a high demand. Indeed, the private club of Millionaires and Billionaires is getting bigger and they are spending more!
Needless to say the people involved in the Yachting Industry are very important for us. This is why we shall always have in our edition a special "Captain's Quarters ". With special interviews of passionate people involved in the Yachting industry. From the Captain, 1er Officer, Chief Steward (Stewardess), Chef, to the Yacht Broker. There are unique people out there whose stories  we are really proud to tell…
We strongly believe in the highly strategical approach of this magazine and by its unique distribution network it is an asset to the development & communication of your luxury Brand.
From South France, the Marina of Saint Tropez , Cannes , Juan –les-Pins , Antibes ,La Baie des Anges, Nice, Monaco, Montenegro (Kotor and Porto Montenegro ), Cyprus, Greece all marinas in the Attica region ( Zeas , Sef , Agios Kosmas , Glydafa , Vouliagmeni , Flisvos ), & strategic island such as Mykonos, Rhodos, Corfou , Santorini , etc…
The exclusive Yacht Club of Greece in Pireus (that private club gathers most owners of the Greek Shipping companies,let's not forget that the Greeks have the largest Fleet in the world …)
Singapore marina, Hong Kong marina of Aberdeen,Hong Kong Boat Club of Aberdeen , Hong Kong Country Club, Gold Coast Yacht & Country Club of Hong Kong.
In exclusive Hotels & Resorts , Golf course &Country Club , luxury outlet worldwide . Selected First & Business class lounges of Airlines & Private Jets lounges.
Fairs & Events,
Hong Kong Gold Coast Boat Show,Shanghai International Boat Show, Dalian Yacht fair ,Hainan Yacht Fair , Beijing Ski & Resort Fair , Shanghai Ancient Car Fair ,Luxury Property Show in Shanghai , Beijing and Guangzhou ,Ski & Style Beijing ,Mediterranean Yacht Show , Yachting Festival Cannes , SO Cannes , SO Monaco
YACHT WAY, is read by many people . From professionals of the Yacht Industries to Yacht owners, and by a large variety of people within the luxury industry.
It is a pleasure to already notice such a success, and we thank you all for it!